What Is Carpal Tunnel Syndrome?
The human wrist is a complex structure of bones and ligaments that allow a wide range of movements. These structures form a tunnel in the wrist, within which lies the nerves that run to the fingers and hand. Injury to the wrist, metabolic changes in the body or repetitive motions can cause the nerves within this tunnel to become compressed, which can lead to a number of troublesome symptoms. Women appear to be more at risk for this problem because the carpal tunnel is smaller in females than in males. The dominant hand generally develops symptoms first because it is used more frequently. Diabetes or other metabolic disorders affect the body's nerves, and so can cause carpal tunnel problems in affected individuals.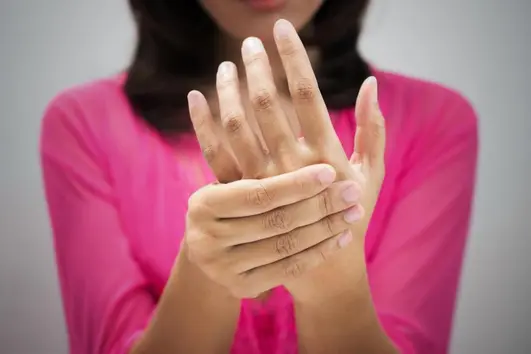 What Are the Symptoms of Carpal Tunnel Syndrome?
The pinching of the nerves within the carpal tunnel can cause a number of symptoms, including pain, tingling, itching or a "buzzing" sensation in the fingers or hand. Symptoms primarily affect the thumb, index finger and middle finger. Hands may lose grip strength or have difficulty feeling hot or cold. Swelling may occur in the hands and fingers, with the feeling that the hands need to be "shaken out" to retain feeling.
Can Chiropractic Treatment Help Carpal Tunnel Syndrome?
Many individuals who do not want to undergo conventional surgery, the use of pharmaceutical therapies or who have not been helped by traditional physical therapy find that chiropractic can provide effective relief from symptoms.Chiropractic techniques can help to re-align the bones and nerves of the wrist, relieving the compression and improving both comfort and function.
How Can Atlantic Chiropractic & Rehab Treat This Condition?
Your Chesapeake chiropractor uses manipulation helps to improve function, massage to relieve pain and improve circulation in the affected area, and physical rehab therapy to improve function in the wrist and hand. Recommendations on changing your habits can help to prevent further carpal tunnel problems in the future.
Let Atlantic Chiropractic and Rehab be your Chesapeake Chiropractor
Atlantic Chiropractic and Rehab can help relieve the symptoms of carpal tunnel syndrome. We offer a variety of therapies to relieve pain and improve function. Dr. Eric Santjer has the comprehensive knowledge and decades of experience that can provide effective therapies to provide effective relief for many conditions, including auto accident injuries, back pain, neck pain, sciatica, fibromyalgia and other health problems. Contact our office today at (757) 547-4325 to make an appointment to discuss how chiropractic care can improve your carpal tunnel syndrome discomfort.