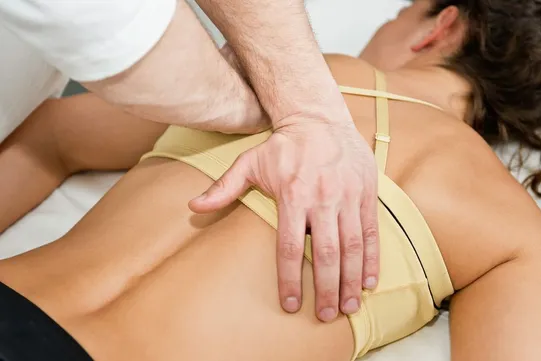 Are you suffering from pain? Do you feel pain throughout your body with no reasonable explanation? Have you tried medications and been to numerous medical doctors to find relief from this pain? If you answered yes to these questions, you may be struggling with fibromyalgia. Our Chesapeake chiropractor, Dr. Eric Santjer and our helpful staff at Atlantic Chiropractic and Rehabilitation, understand your struggles and want to offer you natural relief options. Fibromyalgia pain responds very well to chiropractic care. Especially when our chiropractic approach uses a combination of techniques to ease your symptoms and manage your condition. The more you can do to relieve your pain, the better able you are to return to your former life. A life in which you were not in constant pain that limited your daily activities. We want to help residents of Chesapeake and the surrounding areas treat fibromyalgia the natural and effective way.
Chiropractic Care for Fibromyalgia
Fibromyalgia is widespread pain. The reasons for this pain are thought to be your body having an over-sensitivity to pain and an increase in the pain signal that is sent to the brain. For example, if you stub your toe, you may feel the pain for a week instead of a day since your body is telling your brain this is serious pain. It is nice when you can identify the cause of the pain, but often for fibromyalgia sufferers, there is no identifiable reason. Your body is simply telling you it is in pain and regardless of if you move, sit still, take pain-relievers or do nothing, you still feel the discomfort. Our chiropractic approach aims at re-setting your body's nervous signals. We do this by positioning your spine and other joints to reduce unnecessary pressure off the nerves. This lessens your pain signals and eases your discomfort. Chiropractic adjustments also allow your body to function at a higher level so circulation and mobility improve. As a result, your inflammation decreases.
Chiropractic adjustments are just one piece of the fibromyalgia care puzzle. We also show you how to exercise within your limits to ease your discomfort and keep you feeling better on a daily basis. We understand the last thing you may want to do is exercise, but strengthening, stretching and cardiovascular movements are effective treatments for pain. Not only does your body stretch to ease any tension, it also releases endorphins which are your natural pain relievers. The last piece of the chiropractic care puzzle for fibromyalgia is nutrition. Our chiropractor shows you how to avoid foods that may increase inflammation and lead to more pain. Dr. Santjer also explains how healthy foods keep your body functioning at your best and reduce the stomach complaints that may accompany your fibromyalgia pain.
We invite you to visit Atlantic Chiropractic and Rehabilitation to discover our fibromyalgia treatment options. Our approach is holistic and we aim to return you to a pain free and active life. For more information or to schedule a consultation with Dr. Santjer, please call us today at (757) 547-4325.