At Atlantic Chiropractic and Rehabilitation, we have been serving the Chesapeake community and surrounding areas for over 20 years. Our practice focuses on chiropractic care, rehabilitation and massage therapy for many patients suffering from pain or discomfort. Dr. Eric Santjer is experienced in a number of techniques and therapies designed to reduce pain, improve mobility and get patients back to their day-to-day lives.
We combine our services to create a comprehensive and effective program that helps with lower back pain, pinched nerves and other debilitating injuries. Many of the patients who come to see Dr. Santjer are in pain and looking for natural methods to improve and speed the healing process.
Rehabilitation Program in Chesapeake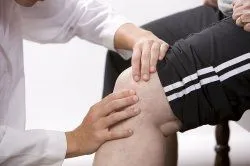 Chiropractic care focuses on harnessing the natural healing ability of your body and allowing it to work without hindrance. When the soft tissues in your body are overused, strained or tense, chiropractic therapies can improve the flow of blood and nutrients to the area, breaking down scar tissue, reducing swelling and speeding healing.
Rehabilitation services include physical therapy to help you improve mobility, flexibility and strength. Part of getting back on your feet will include a treatment plan for helping injured tissues heal and strengthening surrounding muscles to prevent future re-injury.
Car Accident Rehabilitation
We see a lot of patients who suffer from back pain, shoulder pain or neck pain because of a car accident injury. Rehabilitation services for car accident injuries are helpful for pinpointing the real cause of the discomfort and treating the root problem.
Sports Injuries
Athletic injuries are common for older and younger patients alike. Whether it is pulled muscles, dislocated joints or other injuries from a sporting event, Dr. Santjer will work with you to help rehabilitate the injury and get back on the court, field, course or track.
Workplace Injuries
Blue collar and white collar jobs alike can lead to physical injury from poor working environments that cause unnecessary strain. Many industrial or physically strenuous jobs require lifting or activity that could lead to workplace injuries. Though often overlooked, office jobs can also lead to spinal and joint injuries due to poor desk ergonomics or spending day after day sitting at a desk. Jobs that require employees to stay on their feet all day, lift heavy objects or sit at an office chair, often lead to lower back problems, pinched nerves and headaches. Rehabilitation services will treat injuries caused by workplace conditions and provide you with help to improve your daily activity, reducing discomfort.
The Difference of Chiropractic Rehabilitation
At Altantic, we believe that whole body health is important. We work to treat your mental state of peace and relaxation as much as your physical state of comfort. A healthy mind and healthy body will lead to a happier lifestyle. Our treatments are all natural. We don't use the drugs that will only mask your symptoms, we find and treat the root cause so that your relief is real and long-lasting.