Nearly 8 out of 10 people will experience upper back pain in their lifetime, which can be caused by injury, poor posture and even exacerbated by career choice. Dr. Eric Santjer, of Atlantic Chiropractic and Rehabilitation in Chesapeake, Virginia, treats his patients suffering from upper back pain with safe and holistic chiropractic treatment plans.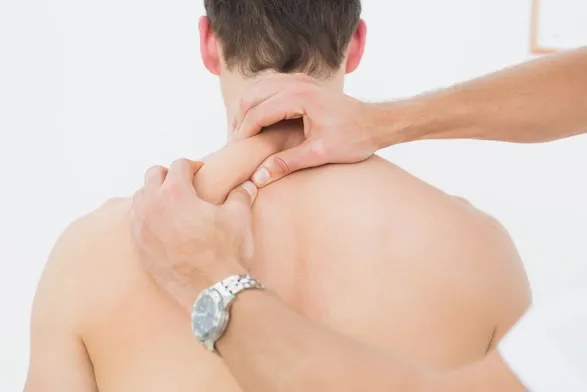 Causes of Upper Back Pain
The back is an incredibly complex system of vertebrae, nerves, and muscles working together to help your body move and perform properly. Unfortunately, all of these moving parts can lead to back injury. Poor posture is a common cause of upper back pain because a misaligned spine places strain on the muscles and ligaments in your back, especially during movement and heavy lifting. Work factors, like having to frequently bend forward or wearing high heels can place a strain on your back and decrease your flexibility. Pregnancy can also cause back pain because of the weight of the growing baby. In recent years, doctors have treated back pain caused by obesity, even in young children.
Of course, injury can create a lot of back pain, whether it is a bulging or herniated disc, muscle strain or sports-related injury. Athletes are especially susceptible to back pain if they play high-impact sports. Back pain can also stem from osteoarthritis, scoliosis or a compression fracture.
Symptoms of Upper Back Pain
The symptoms of upper back pain can vary wildly, from a dull or aching pain to a sharp and debilitating condition. It can be a constant problem or come and go. Sometimes, the pain gets worse with certain movements or activities and can present with muscle stiffness and tightness.
Treatment for Upper Back Pain
While pain medications are often prescribed, you don't have to use drugs that only mask the symptoms of back pain. Holistic treatments, like chiropractic and physical therapy, can greatly reduce your upper back pain and facilitate the healing process. A chiropractor, like Dr. Santjer of Atlantic Chiropractic and Rehabilitation, uses hands-on adjustments and spinal manipulations to rehabilitate your back. Chiropractic works to align the spine to reduce the stress on your back and increase circulation in that area. Physical therapy can help improve the flexibility in your back and train your muscles to work better.
Visit Our Local Chiropractor To Treat Your Upper Back Pain Today
Massage therapy helps to relax muscle spasms in your back, as well as increase the blood flow to that area. Dr. Santjer may also advise you on proper nutrition; exercise techniques and lifestyle changes that can help your back get stronger and prevent further injury.
Contact Atlantic Chiropractic and Rehab at (757) 547-4325 to schedule an appointment with our Chesapeake chiropractor, Dr. Eric Santjer.