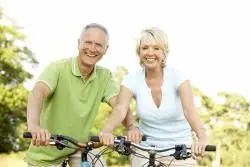 Atlantic Chiropractic and Rehabilitation is happy to welcome you to our practice. In this New Patient Center, you will find everything you need to make your first visit as stress-free as possible. We want you to feel comfortable and confident when you arrive for your first visit to our clinic, so we have compiled all of the information you need to make your visit a success into one convenient location. Whether you already have an appointment with our Chesapeake chiropractor or are looking to book one and want to know what to expect, this portion of our chiropractic website will be an excellent resource.
Your Comprehensive Resource for Starting Your Chiropractic Care
Our New Patient Center is designed to be a comprehensive resource to all patients who are new to our chiropractic clinic, helping you prepare well for your first visit, right from the comfort of your own home. This allows many stressors to be removed before your first visit, so we can focus on treating your pain and illness, rather than messing with bills and paperwork.
One of the features of our New Patient Center is our online forms. Print the forms or fill them out online and you will be ready for your first appointment, without having to take the time to do the paperwork when you arrive. This saves you time as you familiarize yourself with our clinic on your first visit. It also allows you to answer questions about your health and wellness without feeling rushed, so your answers are thorough and complete.
We also offer a number of payment options, which you can see here, that make it easy to handle your bill. Whether you have insurance coverage for chiropractic care or not, we make payments easy to understand, so money does not have to stand between you and true wellness when you visit the chiropractor in Chesapeake.
Are you ready to schedule your first appointment? Click on the Request an Appointment link to make your first appointment. The team at Atlantic Chiropractic and Rehabilitation is ready to make you feel comfortable, so you can embrace wellness with the help of our Chesapeake chiropractor.
About the Chesapeake Clinic
If you are visiting our chiropractor in Chesapeake for the first time, you may have some questions about who we are and what we offer. Our chiropractic team is led by Doctor Eric Santjer, an experienced chiropractor and nutritional consultant who wants to help you enjoy true wellness. He is joined by our chiropractic assistants, who help provide a comprehensive care regimen.
Get in Touch with Your Chesapeake Chiropractor Today!
Do you want to see the faces behind Atlantic Chiropractic and Rehabilitation? Click on "About Us" to learn more about our team before your visit. You can also contact us by calling (757) 547-4325! We want you to feel fully comfortable when you get to our office for the first time, so let us know any other ways we can help you!